Valoriani Training Solves Pizza Chef Crisis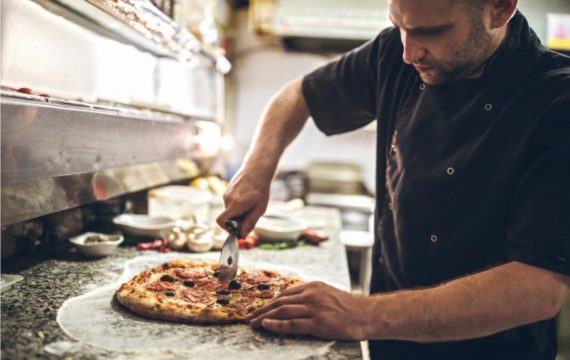 Pizzerias across the UK are shouting out one message at present and that can be summed up in three words, 'Pizza chefs required.'
The national shortage of hospitality-sector staff, estimated at 117,000 workers between May and July this year (Source: ONS), is hitting the restaurant trade hard. Chefs were already hard to come by before the pandemic and Brexit, but now recruitment is a nationwide nightmare. When it comes to something niche, such as finding chefs who can cook the wood-fired way, with a mastery of the art of cooking 'pizzas and more' in a wood-fired oven, it can be even more problematic for a commercial kitchen
The situation has resulted in one London restaurant group establishing its own in-house training for pizza chefs. The Zia Lucia group, founded by Gianluca D'Angelo and Claudio Vescovo, is running its own six-week pizza school. Other restaurants beyond the Italian dining-out scene have also had to turn to in-house training, these including groups such as D&D London, Devonshire Hotels and Restaurants and even chef, Simon Rogan.
As Zia Lucia has said, being a pizzaiolo "has been historically an art, as opposed to a job." If a pizza restaurant wishes to be authentic and offer the true taste of Mediterranean pizza, it requires wood-fired cookery skills that most British chefs will never have encountered and needs staff to understand how to cook with a real flame. As the shortage of real pizza chefs continues, there is also a danger that commercial kitchens will also lose the knack of discerning what a true commercial pizza oven should look and feel like, when, in actual fact, an artisan build and excellent materials are vital for its longevity and the return on investment that an eatery needs to see.
Shortages of pizzaioli are not new. In Italy, in 2013, 'La Bella Penisola' suffered its own chronic shortage of pizza chefs. Its answer was again found in training – particularly of cultural groups such as Egyptians, who proved adept at crossing the cultural culinary divide and being just as efficient at cooking up pizzas as their Italian counterparts.
The moral of the tale is that training can equip any individual with the skills required of a wood-fired pizza chef and you do not have to have Italian DNA coursing through your veins. Some of Valoriani UK's most successful wood-fired customers are not Italian, but they are
passionate about cooking with wood, recognising that this art form and the drama it entails, differentiates them from other competitors. The most successful have also appreciated that artisan food requires an artisan oven and have rejected the me-too ovens that have flooded into the commercial market and which are often not fit for purpose in a commercial kitchen environment.
Training is the key to getting the most out of a Valoriani oven, as it has the capacity to do so much, if you know how to maximise its potential. For that reason, Valoriani UK has a superbly equipped training kitchen, in which we provide dedicated tuition to those who wish to become wood-fired oven owners, learning the skills of a pizzaiolo, either for their own restaurant kitchen's benefit or that of an employer. We offer all of trainees our many years of expertise and advice and provide as much help as they need, to build their confidence and set them on the path to pizza chef success.
If you want to refurbish your kitchen or just add a wood-fired oven, so as to give your restaurant a commercial edge, you should not be nervous about the shortage of fully trained pizza chefs. If you buy a Valoriani oven, you can train yourself, or another employee, in cooking pizza your way, in your superbly handcrafted oven. In many ways, that will give you even more advantages, as what the trainee will learn will be bespoke to a high-performing Valoriani oven, not a lesser oven.
All of its capabilities should then be able to enrich your menu, whether that's by using a Valoriani oven that is cooling down, or one just warming up for the day, for desserts, using residual heat to cook stews and roasts overnight, or popping dough into the still warm oven first thing in the morning, so you can cook your own restaurant breads.
Your new pizza chef could be closer at hand than you think, without having to place advert after advert in job sections. Use Valoriani UK's training options and you could create your own 'artists', who can delight customers with their use of one of our artisan, authentic wood-fired ovens.
Call us on 01772 250000, to find out more