Pubs and Restaurants Gearing Up for July 4 Opening the Wood-fired Oven Way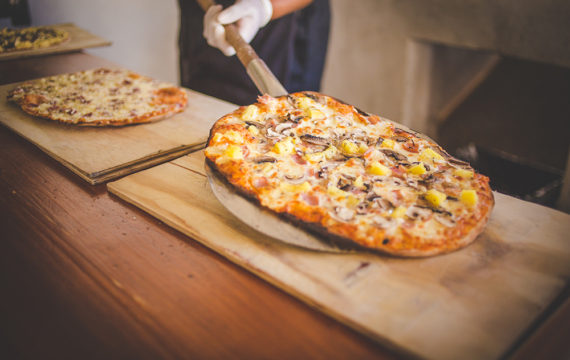 Summer 2020 started with a big boom in sales of commercial Valoriani wood-fired ovens, as pubs, restaurants and cafes with outdoor areas sought to offer dining options in line with social distancing regulations, as they prepared to open from July 4.
Valoriani-owning pubs and eateries have long proved how much turnover can increase when a wood-fired pizza oven is on hand to tickle the taste buds and draw in diners. But this summer is slightly different, as caterers are now looking for ovens that can effectively offer more than just pizza, be that amazingly cooked jacket potatoes, kebabs, pulled pork or chicken or steaks.
Many wood-fired ovens just cannot effectively offer such options, as they do not heat up efficiently, being constructed of low-grade materials. Many also fail to retain heat overnight, so a chef cannot slow-cook a joint of meat using residual heat. Too many wood ovens have been created as cheap imitations of the real thing and those chefs who recognise the real thing are quickly looking for the Valoriani 'V'.
With some operators reporting their original choice ovens lasting less than three months, and others stating that the oven floor of the cheap imitation oven that they bought does not heat up after a few pizza have been cooked, causing them to have to crank up the fire and stop service whilst they do so, it's easy to see why Valoriani is so popular a choice, once they've learned their lesson the hard way. Esordio, IGLOO, and Fornino 75 ovens for those wanting something mobile, are flying out of the door, at the centre of many rescue missions.
Some, however, have chosen wisely and are turning to a pizza oven for the first time, recognising that a very healthy profit margin can be made on pizza and that a high turnover of sales outdoors can start to fill some of the hole in income. The cost of the ingredients means profits of £7-8 or more, per pizza, are more than achievable and hooking diners into a garden for pizzas can then lead to sales of alcohol and other beverages. It is also a great 'order and collect' option for some venues, which rare unable to get back to normal operation just yet, or the basis of a new home delivery service, enabling them to keep in contact with customers.
Other caterers have looked, or are looking, for effective mobile pizza oven options, so they can take their wares out to customers able to find them outdoors. With Valoriani's great range of mobile oven options, from the Fornino 75, which allows a caterer to cook four or five pizzas at once, to a quirky Forno Bici.
Then there are those living in Smoke Control Areas, who are aware that they need a wood burning oven that has Defra certification and which can be legally operated in their area, unlike some other wood-fired pizza ovens.
But site surveys are also being booked in fast for restaurants deciding to add an indoor oven, using this period to introduce a menu makeover and to have the right set-up in place, should another virus outbreak make takeaway deliveries, or click and collect pizzas their only option.
If you are looking for a wood-fired oven, shipments are arriving from Italy on a regular basis, with the Valoriani factory having come out of Italy's lockdown before UK coronavirus restrictions lifted and having resumed production some weeks ago. If a pizza oven sounds just the ticket for your catering business, please contact us on 01772 250000 to discuss your options.