Outdoor Cinema Events Find Woodfired Pizza Ovens are the 'New Popcorn'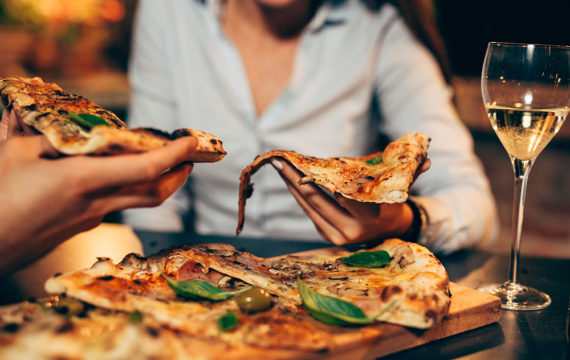 Astute beer garden operators and restaurant owners have been using woodfired pizza ovens to pull in the punters and boost their covers, business growth and profit margins for a few years now, but Covid-19 has provided the sector with a new twist, with outdoor pizza ovens now becoming the new 'popcorn makers' within a trend that is seeing eateries staging outdoor movies in their available al fresco space.
The need to utilise outdoor space to the max, and in as novel a manner as possible, to keep the customers coming back for more in the current climate, has led to pub and restaurant gardens turning to outdoor cinema nights as footfall generators. And, where this is happening, the star behind the scenes is typically an outdoor, woodfired pizza oven, on-hand and ready to serve hungry al fresco cinema goers in style and with a good degree of social distancing (aren't pizza paddles just great in this context!).
Home entertaining with outdoor cinema + woodfired pizza
But it's not just commercially savvy chefs and restaurant owners who are making outdoor cinema nights + pizza the main attraction. The allure of outdoor cinema is such, that homeowners who boast a wood fired pizza oven in their outdoor living armoury, are following suit and inviting friends and family round to their gardens for a chick flick like Pretty Woman or to view the latest flying adventure of the Millennium Falcon.
Brits have fallen in love with their outdoor space during lockdown and outdoor cinema has seen a big boom in recent years, with the romance of the drive-in now mixing with a general love of al fresco living, to give this style of cinematic experience its renaissance. Put this together with the nation's love of wood fired pizza (in fact, any pizza!) and it's pure chemistry, on and off screen.
Mobile wood-fired ovens just the ticket at outdoor movie events
But this new way to enjoy movie stars' performances, is also leading to opportunities for mobile pizza oven operators and owners, who can take their ovens to outdoor movie events organised by independent event organisers, or go-ahead councils like Tamworth Borough, and feed the 'auditorium'. There, if they have a robust mobile pizza oven, with good cooking floor capacity, they can quickly serve a queue and, with the aromas of authentic wood-fired pizza wafting across the 'aisles', and the appetite that being al fresco can build up, there's every chance to be a box office sensation – as long as your oven is more than a metal box! Those investing in a Valoriani mobile pizza oven for this purpose right now, will be at such opening nights for many years to come – with the same, reliable and exceedingly well-manufactured wood oven, perhaps housed on a quirky bike, in a Piaggio APE or on a trailer.
How to create smaller commercial and domestic outdoor cinema nights
Obviously, larger-scale outdoor cinema events come with big screens and sound systems, but homeowners, or pubs and other eateries serving up cinema in their beer gardens, can create their own smaller and more intimate version of such extravaganzas.
Deciding on the best place to situate the screen is the key to success and the starting point from which you can build. Breezes and windy corners need to be taken into consideration and the screen needs to be situated in a position from which the movie fans can actually see the action, of course! You might splash out on an actual screen or just get inventive with a white canvas sheet that you string up, but whichever you go for, think about the lighting around it, ensuring this will not detract from the imagery. Do get yourself a good projector and a soundbar. Both are crucial to the experience.
Seating then needs to be put into socially distanced rows and made as comfy as possible. If you are hosting an event for your 'bubble', having cushions and blankets isn't an Issue. If you are a commercial enterprise, this is not going to be possible, so make your wood-fired pizza offering as good as it can be, to compensate – and that starts by buying a good, highly recommended oven that will be with you for many seasons to come and which could allow you to test the market for wood-fired pizza on your menu. Some nice fairy-lights and solar-powered lanterns in the trees will also add ambience.
What to show and cook
So then, it's just a case of what to show on your 'silver screen' and what to cook up in your wood-fired pizza oven and, if you have a Valoriani, it has the capacity to make that virtually anything – even grilled items, if you have a Tuscan grill accessory. Whilst commercial venues will have to stage a crowd-pleaser, you could add to the authenticity provided by your Valoriani wood oven, if you are a domestic oven owner, by showing one of the truly iconic Italian movies (with subtitles, if necessary!).
So, what to choose? Il Postino perhaps for the romantics and nostalgia seekers, Il Divo or Il Cento Passi for those finding intrigue and mafia stories fascinating, or maybe La Vita è Bella if you fancy a good old weep with the girls. Of course, the most fitting will probably be Cinema Paradiso, as that's what you will be creating, in your very own garden, with a bit of ingenuity and your Valoriani wood-fired pizza oven.