New Year's Eve Traditions Italian-style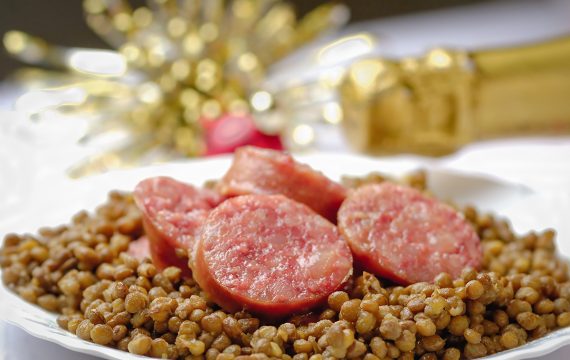 New Year's Eve in Italy is a really big deal. Unsurprisingly, given Italy's love of food, celebrations are centred around eating and focus on gathering friends and family around the table, so all can converse, have fun and engage in a shared celebration encompassing several courses and many hours at the table.
Here in the UK, New Year's Eve is the perfect time to put your wood-fired pizza oven through its paces. A Valoriani oven will retain the heat for hours on end and can cook so much more than pizza, enabling you to rustle up a beautiful, traditional Italian New Year feast, should you wish to.
If you wish to create a typical New Year's Eve event, you can prepare the food outside in the garden oven and carry it inside to wow your guests with flavours and aromas. If you go for a meal on New Year's Day, you could potentially eat outside, allowing the oven to take the chill off a patio area or garden dining area.
For Italians, everything has a meaning at New Year and the dishes traditionally served are no different. Many of these are perfect for cooking slowly in a wood-fired oven, which draws out and accentuates the flavours beautifully. Of course, no feast is complete without a glass or two of the finest Italian Prosecco.
Steeped in tradition, one of the courses most associated with New Year is zampone e lenticchie (pig's trotter and lentils). Whilst it may not sound particularly appetising, the good news is that the modern-day variation on this is cotechino con lenticchie, with cotechino being a type of sausage that contains the meat from the trotter.
According to Italian folklore, eating sausage before midnight is a good omen for the New Year since sausage made with a pig's trotters is high in fat, symbolising abundance. When eaten with lentils, which are believed to bring good luck and prosperity for the year ahead, due to their coin-like shape, diners have every opportunity to have fortune smile on them in the year ahead.
If you fancy. recreating the cotechino dish, then take a look at this recipe which can easily be cooked in a wood fired pizza oven.
The cotechino could be served with Valoriani UK's recipe of Lentils Nonna. Often cooked with onions, garlic, herbs, tomatoes, and olive oil, lentils, however you serve them, are the perfect accompaniment to cotechino.
An Italian New Year's dinner is often finished off with dried fruit and grapes. In the summer, Italians are encouraged to keep back some grapes from the harvest until New Year's Eve – to create a symbolic gesture that suggests that everyone at the table will be wise and frugal with any newfound wealth.
But, the best dessert to make in a wood-fired pizza oven, which is also synonymous with Christmas and New Year, is a good old Panettone. This dome-shaped and sweetened cake contains that special mix of raisins, candied orange, citron and lemon zest that really shouts Christmas and is pretty easily created in. wood oven.
First made in the 15th century, when a nobleman is said to have prepared a prototype Panettone to impress the baker's daughter, Adalgisa, Panettone today offers a delicious taste of traditional Italy that most guests will enjoy over Christmas and New Year.
Best served with chocolate or with a dollop of Mascarpone cream on the side, preparation time is extensive but worth it.
There's one more tradition you could incorporate into your New Year's Eve bash which will purportedly banish bad luck. Quite simply, when cooking all your beautiful dishes in your wood fired oven, make use of your old pots and pans and then throw them away once you are done with them. This tradition symbolises letting go of unhappiness and preparing for the future, so why not give it a go?
If you're looking for a unique way to celebrate New Year and to use your wood fired oven over the festive season, just look for some Italian inspiration and you are sure to enjoy a fantastic celebration that will bring in 2020 with a bang!