Easter Wood-fired Oven Recipes from Valoriani UK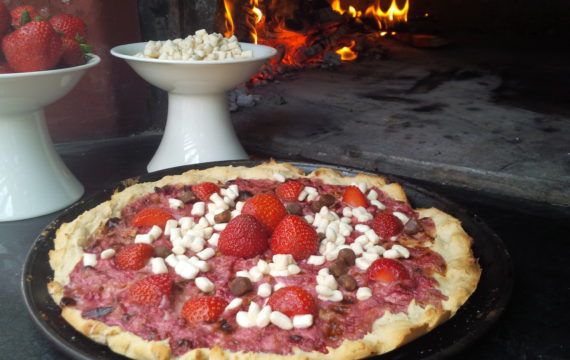 Easter 2020 will be like no other and will be a sombre affair for many. Whilst we understand the emotions people in the UK will be going through, we also have a Valoriani oven family out there, who can at least get out into their gardens and use their wood fired pizza ovens, potentially spending some of their extra time learning to cook new dishes.
To support them, we have created some Easter recipes based around the traditional lamb and chocolate choices but also done a bit of lateral thinking and included aubergine – or eggplant as it is also known. We had to get eggs in there somewhere! 🍆🍆
If you have a wood fired oven, get cracking on some of these recipes. Each one is focused on serving 4-6 people, so lower the amount of food proportionately, if you are social distancing and just serving one or two people.
Lamb Shanks the Wood Oven Way
Oven Temperature
Get the floor of your oven to a temperature of around 285° Celsius at first. As you are using a slow cooking method, the temperature can be allowed to drop after the initial searing of the meat.
Ingredients
4-6 lamb shanks
2 cloves of chopped garlic
Seasoning (salt and pepper)
A sprig of rosemary (or mint, if you prefer)
200 ml lamb stock
200 ml red wine
Lemon
1. Rub a mix of salt and pepper on to the lamb shanks, according to your taste.
2. Pop a pan inside the oven and heat it up for around 7 minutes.
3. Remove the pan and add the lamb shanks. Turn these over and over, until the meat is browned all around. Remove the shanks from the pan.
4. Filter or run off the fat in the pan, retaining the meat juices if you can and then add the Rosemary/mint and garlic, allowing those to cook for a few minutes in the oven.
5. Remove the pan and add the red wine. Put the pan into the oven for around 5 minutes.
6. Remove momentarily, so that you can add the lamb shanks and around two-thirds (140ml) of the lamb stock, allowing one-third of the meat to be covered and two-thirds of the lamb uncovered.
7. Cover the pan with kitchen foil and pop into the oven for a long spell of slow cooking that will allow the meat to emerge tender and falling off the bone. Do as you would when cooking lamb in a standard oven and keep checking on the amount of liquid in the pan. Top this up with your remaining lamb stock periodically, until ready to serve.
Aubergine Parmigiana
If you love aubergine (or eggplant!) then this is a great dish to cook in a wood-fired pizza oven or, of course, a gas-fired pizza oven, if you have a Valoriani Fornino baby oven that runs on gas rather than wood. It's really a pretty simple dish to cook, so if you are a novice, just getting to grips with your oven, this is a recipe for you.
Oven Temperature
Get the floor of your oven to a temperature of around 285° Celsius, which is a good temperature for roasting and baking.
Ingredients
(Remember we are catering for 4-6 people, so reduce accordingly and also according to appetite).
3 large aubergines
A pinch of salt
Ground black pepper
Dried oregano
Two garlic cloves
2-3 tablespoons of olive oil (use extra virgin, if you can)
Carton of tomato passata or 2 cans of liquidized plum tomatoes
Fresh basil
Fresh or dry parsley
Mozzarella cut into thin slices
Cup of Parmesan cheese (thinly sliced or grated)
1. Cut the aubergines into slices that are around 1-cm thick, cutting down the aubergine, rather than across it, so that you have strips not circular pieces.
2. Oil a baking sheet with some of the oil and pop the slices of aubergine on to this. Sprinkle the slices with pepper, dried oregano and three cloves of chopped garlic
3. Put the baking sheet in the oven and let the aubergine strips cook until they start to turn a light brown colour and soften. Flip them over and do the same with the other side. Once ready, and lightly browned on both sides, remove the baking sheet from the oven. As you may know, salt will bring out some of the bitterness associated with aubergine, so reach for your salt at this point and sprinkle some of this over the tops of the aubergine slices.
4. It's now time to layer an ovenproof baking dish with your various ingredients, starting with a layer of aubergine on the bottom. Cover this with some of the tomato sauce and grated parmesan then add a few Basil leaves. On the second layer, use aubergine slices, tomato sauce, parsley and parmesan and a little salt and pepper. Repeat this process until you run out of aubergine. The size of you dish will determine how many layers you get. After the final layer, top the whole thing with mozzerella cheese.
5. To create a nice bake, drizzle some olive oil across the top of the dish and then put the dish in the oven. Bake the dish for around 25 minutes but do not overcook. Judge this by looking out for bubbling around the edge of the dish. If the oven is too hot and it is bubbling too aggressively, or the cheese on top is burning, you can slow the cooking down by covering with foil. Allow it to bubble for too long and it will not have the nice soft cheesy texture you should be trying to achieve and the nice golden cheese top finish you should be seeking. As with many wood-fired oven dishes, it is advisable to let this one rest outside of the oven for around 10 minutes, before serving.
Roasted Garlic Potatoes
This is a nice simple dish to serve with either the lamb dish or the aubergines – or any other recipe you wish to try this Easter. It's quick and easy!
Oven Temperature
Again, we need an oven temperature of around 285° Celsius for this side dish.
Ingredients (4-6 people; reduce if you wish to serve fewer people)
Five or six large potatoes cut into reasonably sized cubes (3cm x 3cm)
Three cloves of garlic
Olive oil
Rosemary sprigs
Seasoning
1. Oil a baking tray, add the potato chunks, plus peeled garlic cloves and rosemary.
2. Simply pop the tray into the wood-fired or gas-fired pizza oven and allow the potatoes to roast, taking care not to burn them. If your oven is a little hot, cover them with foil.
3. Remove, rest and serve
For a fluffier finish, first par-boil the potato chunks for around 7 minutes, or until they are still firm but will accept a prod with a fork.
Indian Lamb & Aubergine Kebabs – using a Valoriani Tuscan Grill accessory
This dish will help you spice up your Easter and prove that a wood-fired oven is not just for cooking Italian dishes. This is a tikka-style dish, which means that you need a marinade. It takes a little pre-prep and overnight infusion but the results make it worth it.
Oven Temperature
Again, we need an oven temperature of around 285° Celsius for this dish.
Ingredients (for 4-6)
Don't forget you will need skewers and the Valoriani Tuscan Grill! Metal skewers are best but if you only have wood soak them in water overnight before making kebabs with the damp skewers.
Six lamb steaks cut into cubes of around 2.5cm-squared
One aubergine, cut as in the previous recipe)
One large onion cut into quarters
Two large peppers cut into squares (choose your favourite pepper for flavour or colour)
Marinade:
Half a large pot of natural yogurt
Two chopped garlic cloves
Cumin seeds (1.5 tsp)
Turmeric (2 tsp)
Coriander (a few chopped leaves)
Chilli powder (1.5 tsp)
A little chopped ginger
Seasoning to taste
1. Prepare the marinade by blitzing all marinade ingredients in a blender.
2. Place the marinade in a bowl and the toss the lamb and aubergines in the mixture.
3. Cover the bowl with clingfilm and put in the fridge overnight.
4. Skewer as follows the next day – meat, two pieces of onion, aubergine, square of pepper and second piece of lamb. Depending on the length of your skewers you can repeat the sequence until full.
5. When the fire has got the oven up to temperature, drag some smaller chunks of wood (like the Logs Direct Piccante Piccolo) to the centre of your oven or alternatively bring some embers into this area.
6. Position the Tuscan Grill over the wood or embers and let it heat up.
7. Add the skewers and, just as if barbecuing, turn these during cooking. Your total cooking time should be around 20 minutes, or a little longer if you like your meat cooked 'well'. Make sure the aubergine is tender, before you come to serve the dish.
If you do not have a Tuscan grill place the skewers in an ovenproof dish and cook in the oven, turning them regularly.
Ratatouille
Oven Temperature
Again, we need an oven temperature of around 285° Celsius for this dish, which should cater for both vegetarians and vegans.
Ingredients
2 aubergines, cut into chunks, rather than rings
2 colourful peppers of your choice – red, orange or yellow, diced
2 large courgettes diced
1 large red onion sliced
280ml of canned tomatoes (adjust according to whether you like more tomato in your dish)
1 clove of garlic, chopped
Olive oil
Fresh or dried basil, tarragon, oregano and parsley
Basil leaves for decoration
Salt and pepper
1. Put your aubergines, onion and peppers inside a baking pan and drizzle olive oil over them, plus seasoning. Mix a little and then cook (fry) in the mouth of the wood-fired oven until the aubergine tops are turning light brown and the peppers are acquiring a bit of colour too.
2. Remove the tin and stir in the garlic, herbs and the courgettes. Cook these for around 8-10 minutes, depending on your oven temperature.
3. Remove the tin and add the tomatoes. Make sure the mixture is balanced, in terms of ingredients, unless you like lots of tomato. Cook for around 25 mins in the oven, checking that nothing is burning. You want tenderness, not charring. Again, covering with foil in a hot oven can help the process of softening the vegetables, without burning the top.
4. Remove and cool for around 10 minutes. Use the basil leaves for decoration, colour and flavour.
5. Serve.
Chocolatey, Boozy Bread & Butter Pud
Oven Temperature
We need a lower oven temperature of around 180° Celsius for this dish and also some pre-prep the day before eating. Alternatively, you can cook in a hotter oven, by covering with foil and then removing the foil towards the end of cooking, to crisp and brown the top.
Ingredients (for 6-8 servings)
8 slices of white bread
Jar of Nutella or other chocolate spread
4 eggs
Marmalade
Soft butter or margarine
50g caster sugar
80ml rum – Alnwick Rum is perfect!
375ml of double cream
30g of raisins
300ml whole milk
1. Butter and marmalade the bread on one side and put the chocolate spread on the other side.
2. Take a fairly deep dish, quarter the bread slices and put them into the dish higgledy- piggledy, overlapping slightly.
3. Break the eggs into a bowl and whisk. Whisk in the sugar and then stir in the milk.
4. Add the rum, the raisins and the cream, blending these into the mixture.
5. Pour some of the mixture over the bread, almost but not quite covering it and helping the bread soak up the mixture, using a spoon to apply a little pressure to the bread.
7. Add the rest of the mixture and cover the dish with clingfilm, if putting in the fridge overnight, or cover with foil if going straight into the oven.
8. Cook in your wood-fired oven for around half an hour, turning the dish, just as you would a baked dish in the oven. Remember to remove the foil for 3-5 mins before serving, to brown and crisp the top. Serve with cream or ice cream.
Italian Easter Pizza (Well Andrew's Easter pizza and he is Italian)
See our dough recipe at (www.valorianiuk.com) for the pizza dough.
1. Flatten a pizza base and spread with Nutella, or other softened chocolate (spreading this instead of tomato sauce).
2. Choose adult or child toppings, or your own sweet choices, such as:
– Slices of apple, nectarine and pear, marinated overnight in Marsala wine (for grown-ups)
– Sliced and whole strawberries
– Mini eggs and M&Ms – these can be added before or after cooking depending on your preference.
Serve with a dollop of clotted or whipped cream, or ice cream.
We hope these recipes will provide you with flavoursome food, in keeping with the Easter vibe. The aromas from your oven should be sensational and cooking with your wood oven will give you pleasure and skills-based satisfaction. Once you get good at the dishes, don't be afraid to experiment, adding new ingredients or twists that suit your palate. Experimentation is part of the enjoyment when you are a wood oven owning chef!