Di Scala Kicking On Successfully With Valoriani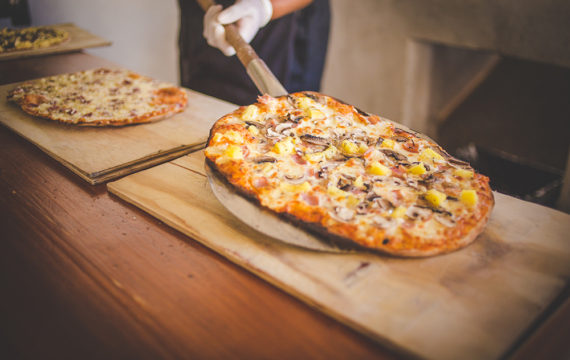 It's not every day that an elite sportsperson uses their World Championship winnings to help fund a dream, of which a Valoriani commercial wood-fired pizza oven becomes a key part, but that's precisely what happened with regard to one of the UK's greatest taekwondo athletes.
Bianca Walkden and her parents, Anna and Saaed Haraini, were delighted to achieve their dream of opening their Liverpool-based pizzeria, Di Scala, three years ago, tapping into Anna's Italian and, more specifically, Neapolitan heritage by creating a food offering that paid homage to the birthplace of wood-fired pizza cookery and was infused with authenticity.
A love of pizza was in the family's DNA and, when the now double-Olympic bronze medallist earned a large cheque for a World Championship performance, opening a wood-fired oven pizzeria in her family's home town of Liverpool, seemed the most natural thing to do.
Ovens for Neapolitan pizza tradition
With a Neapolitan family heritage coursing through her veins, Anna, the culinary maestro in the team, wanted an artisan, top-quality commercial wood-fired oven that would be authentic and exude the essence of Naples, whilst also recreating the Neapolitan pizzas which her family had cooked up for generations, but within a restaurant environment.
With the guardians of Neapolitan pizza tradition, the Associazione Vera Pizza Napoletana, (AVPN) having worked so closely with artisan pizza oven manufacturer, Valoriani, to verify that even Valoriani's gas-fired ovens, and not only its wood-fired ovens, can create authentic Neapolitan pizza, Anna turned to Valoriani UK to equip her pizzeria's new commercial kitchen.
Valoriani UK advised Anna on every aspect of her oven purchase, referencing how they had, worked extensively with another pizzeria and devotee of Neapolitan pizza tradition – Oakfired at the Royal Oak in Beccles. Oakfired had been supplied with a fabulous commercial Vesuvio Igloo 120 wood-fired oven, which had become its tour de force, as it revelled in being only the third pizza restaurant in the UK to achieve the stringent AVPN accreditation and be legally able to serve 'real Neapolitan pizza'.
The Valoriani oven's impact
The Haraini family now proudly post pictures of their artisan Valoriani wood-fired oven on their restaurant's social media channels, having made this the powerhouse of a restaurant which serves mainly pizza, with a few other dishes, equally capable of being cooked in the Vesuvio Igloo 120 oven.
The Olympic taekwondo medallist, from both Rio and Tokyo, also proudly admits, in numerous interviews, that she is not just an athlete, but a part-time pizzeria waitress in this wonderful restaurant, which does justice to her family's history.
There is much to be proud of, however, beyond the Olympic podium. The wood-fired Valoriani oven helps the Maghull-based pizzeria turn out exceptional food, night after night, offering exceptional heat retention and heat consistency and an authentic Mediterranean oven environment, which makes the delivery of the true taste of Naples easy.
Wood-fired pizza excellence
With the great culinary talents of Anna and her knowledge of authentic Neapolitan cuisine, handed down by her father, the Valoriani oven excels for Di Scala, producing dishes which seemingly always achieve rave reviews. The walk from Maghull North station, down Deyes Lane, is proving one which truly rewards the authentic pizza seeker.
The menu naturally displays the two styles of pizza which are inimitably Neapolitan – the Marinara and the Margherita – but it also ventures in other exciting directions, offering diners irresistible temptations such as 'Nduja pizza (soft Calabrian sausage) and white pizzas topped with smoked scamorza (southern Italian cow's milk cheese), plus other toppings including roasted pork and apple or Italian sausage, Friarielli (wild broccoli) and Kalamata olives.
Despite suffering the same impacts as other eateries during Covid-19 closures, Di Scala is now open again for evening service on specified days and thrilling its diners. TripAdvisor comments are pretty unanimous and include: "If I'm being honest, it has ruined pizza for me anywhere else" and "the finest pizzas I've tasted anywhere outside of Italy and New York." The label 'Best pizza in Liverpool', is also handed out by some of the independent dining adjudicators.
Kicking on to future wood-fired success
These comments demonstrate how the Valoriani Vesuvio Igloo 120 oven has helped the Haraini family achieve its goal of sharing the secrets of fantastic Neapolitan-style, wood-fired pizza and spreading the love of the cuisine of Naples and its environs.
With Valoriani behind them, the Haraini family and the exceptional taekwondo champion, can both anticipate kicking on with great success, once the pandemic eases further and we enter a more stable world of eating out and restaurant experiences as we formerly knew them.
Low-down on the Vesuvio Igloo 120 oven
Starting from: £16k (dependent on build specifications)
Speed of cooking pizza – Under 90 seconds
30cm Pizza capacity – 8-9
Wood consumption – 7kg/hr (based on kiln dried hardwood <20% moisture content) Anticipated ROI, if serving 600 pizza a week (assuming 6 day week and calc based on £8.50/pizza) = 16000/8.5 = 1882 pizzas/100 per day to be served = 19 days or just over 3 weeks to pay back the investment! Fully productive 8hr day potential up to 320 pizzas per day (based on 2 every 3mins) = £2,720 in revenue per day!