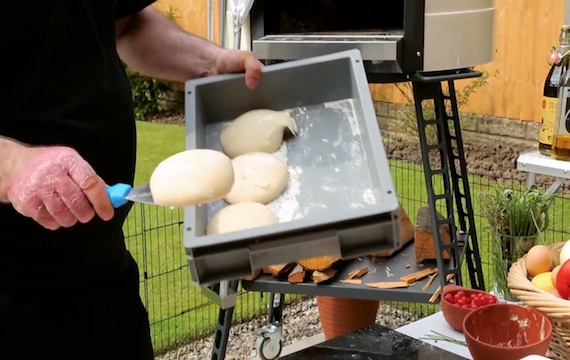 Inspired by – Italian Pizza Champion Michele Croccia – Salerno
Please Note: All measurements are as quoted by Michele with conversions from metric to imperial (UK) and vice versa in brackets () where required.
Full Mix
Neapolitan Pizza
1 Litre (35.2 Fl oz) of filtered neutral water
3g/ 5g of Yeast (less than ¼ oz)
1.8kg/1.9kg (4lb to 4¼ lb) of 00 Flour preferably W330 300 grade
50g Salt (1¾ oz)
3 fl oz (85ml) Olive Oil
Half Mix
½ Litre (17 ½ Fl oz) of filtered neutral water
1.5g/2.5g of Yeast (less than 1/8 oz)
900g/950g (2lb) of 00 Flour preferably W330 300 grade
25g (¾ oz) Salt
1.5 fl oz (42.6ml) Olive Oil
Mix all ingredients in a mixer for 20 minutes, adding olive oil after 10 minutes.
Leave covered with damp towel on worktop for 1 hour (warm conditions) or 2 hours (cold conditions)
Ball in to 6oz/7oz (170g/198g) balls.
Prove in the fridge at 4°C for 24 hours.
Remove from the fridge 4 hours before use, to prove.
True Neapolitan Pizza Is almost more of a method than a recipe, although there are minor adjustments to the recipe above. There is no use of olive oil, it should spend two hours on the worktop in all conditions, should be balled and put in the fridge, but then re-proves out of the fridge 6 hours before use. The pizza must be lifted manually onto a wooden peel. It can only be cooked in a wood fired oven or a Valoriani gas Verace (Certified by AVPN).
Roman Thicker Pizza – often seen as taglio. The same method as for Neapolitan pizza should be used, apart from using 1.5kg (3.3lb) of flour and 45g (1.5oz) of salt.
Gluten Free Dough
425g (15oz) Gluten Free Bread Flour
60g (2.1oz) Chickpeas Flour
3g (less than ¼ oz) Yeast
300ml (10.5 Fl oz)Water
25ml (0.9 Fl oz) Olive Oil
Teaspoon of salt
Blend all ingredients together in a mixing machine with a dough hook, until all flour is integrated. Cover and allow to prove in a warm place, preferably for around 24 hours. The dough should double in size and be very wet and sticky. This is what stops it from breaking up during cooking.